We'd love you to get married at St Luke's.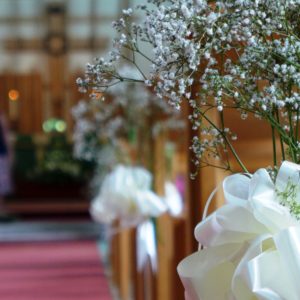 Although the outside of St Luke's doesn't win many prizes, step inside and you'll be surprised by the bright airy and spacious body of the church and the beautiful chancel area around the altar – the backdrop to many wedding photos.
When you get married at St Luke's, most of the service takes place at the chancel step, just in front of where family and friends will be sitting.
You're welcome to marry here if either of you live or grew up in St Luke's parish, or if you worship regularly at St Luke's, or if your parents live or lived here, or if they are or were members of St Luke's – in fact there are lots of ways people can be able to get married here.
You can get in touch and we'd be delighted to show you round and talk about how your wedding would take place in St Luke's.
We'll arrange to meet up, give you the information you need, help you with the form-filling stuff and spend some time making the service personal to you both.
If you live in the parish but are having a church wedding somewhere else, you will still need to have your banns read in St Luke's as well as in the church where you are marrying. We have to do this at least three weeks before your wedding so make sure you don't leave it too late! Contact us any time about this and we will arrange it for you.
You can find out much more about marrying in the Church of England, including about fees, online at Your Church Wedding.