We meet to worship God several times every week but our main get-together as a church family is a service of Holy Communion at 10.00am every Sunday morning.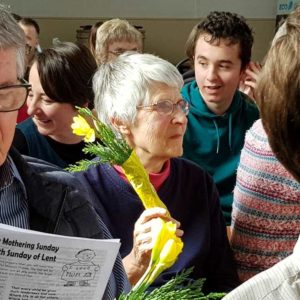 On the 1st Sunday of most months there's a Family Service, '4everyone', at 4.00pm too.
On all the other Sundays there's teaching for younger people and children during the 10.00am service.
On the 3rd Sunday of the month it's an all-age service, 'Holy Communion 4 everyone' or 'HC4e' so everyone stays in together.
On the other Sundays our younger members move to the church hall for their own activities during the sermon.
See our regular pattern of services
St Luke's worship is modern and catholic in style, enriched by both tradition and change.
Vestments are worn and incense is used most weeks; some preachers choose to stand at the front of the congregation while others prefer the pulpit.
Our music is drawn seamlessly from the Church's past and its present, accompanied and led by pipe organ or piano and guitar, and sometimes supplemented by a variety of instruments such as drums and violin played by church members.
An informal group leads singing during communion; a robed choir of children and young people makes periodic appearances too, while a home-grown four-part choir of St Luke's members leads services on some major feasts and festivals.